Cross-chain Narni Bridge beta launched from Umbria network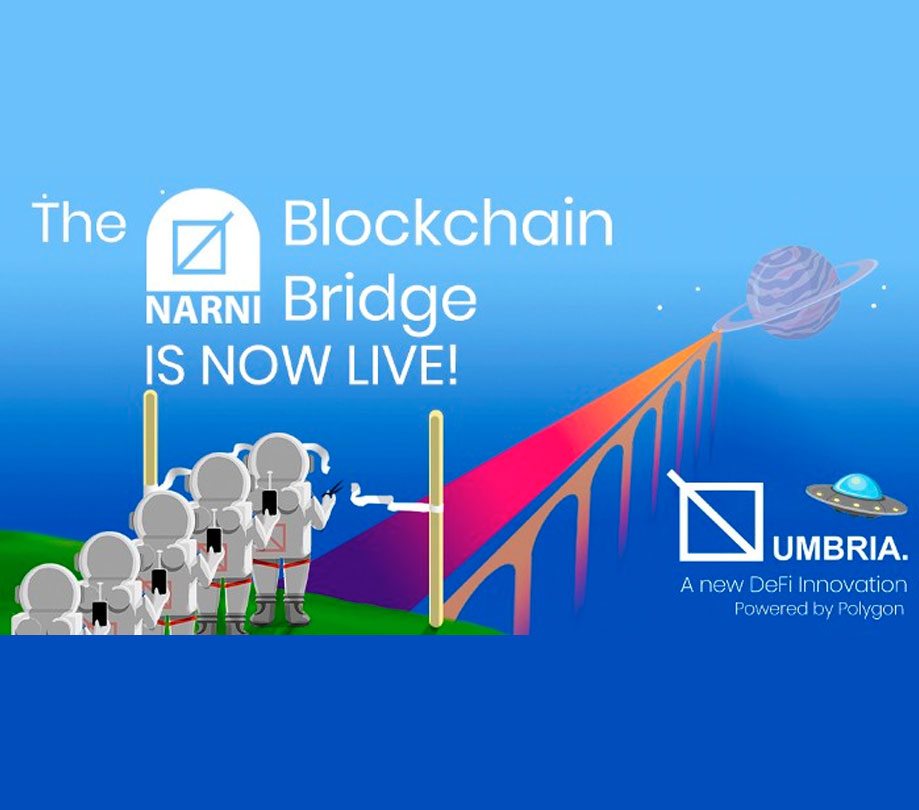 Umbria Network announced that Narni 'Insta' Bridge is in beta and available to the public.
Cross-chain Narni bridge extends functionality
Users of the bridge – bridge.umbria.network can now transfer $ UMBR (the Umbrian governance token) between Ethereum Mainnet and Matic Mainnet quickly, easily and inexpensively. Soon, the functionality of the bridge will expand to see it compatible with a universe of other assets and integrate with a multitude of different blockchains.
In addition to asset transfers between networks, users can now "pool and earn" – that is, provide liquidity to the bridge to receive fees (bridge.umbria.network/pool). Whenever someone connects assets between two cryptocurrency networks using the Umbria Narni Bridge, liquidity providers receive a 0.2% fee share. Liquidity providers can provide a single asset to the bridge and earn interest on the native asset they provided. This functionality is currently available for UMBR on the Ethereum and Polygon networks and will soon be extended to other assets. Stablecoin farmers should find this feature particularly profitable. Stablecoins are probably the most frequently bridged assets due to their common use in arbitrage and trading and are therefore expected to generate higher fees for liquidity providers. Unlike traditional cash provision and farming, stablecoins offer a high return.
Umbria has also launched its Connect portal, which allows anyone to very quickly and easily connect their Metamask wallet to any EVM-enabled channel. Using the Connection Portal, users can configure their wallets to interact with their assets on the desired network with one click instead of having to manually configure RPC connections.
"We are excited to bring a revolutionary product to the DeFi community and look forward to developing Narni into the primary hub for cross-chain transactions. We believe that Narni will be a gateway to introduce the Umbria ecosystem to a wider audience, "said Barney Chambers, Umbria co-lead developer.
Become a subscriber to App Developer Magazine for just $ 5.99 per month and enjoy all of these benefits.