Best Online Personal Loans June 2022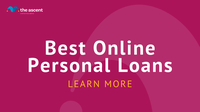 What is an online personal loan?
Personal loans can be used for a wide range of purposes, such as consolidating debt, paying for home improvements, or covering unexpected expenses. A personal loan is considered unsecured because it is not backed by collateral. An online loan is a convenient way to get a personal loan without ever setting foot in a bank or credit union. You can complete the entire application online and, after approval, receive the money in your account within one to three business days. The approval criteria and the interest rate depend on the financial institution.
What are the advantages of an online personal loan?
Online loans are convenient and fast. Many lenders allow you to pre-qualify and view personalized rates and terms before you apply. This is known as a soft credit check and it will not affect your credit score. You can see what terms you qualify for before you apply for the loan. Online loans also allow you to easily research and compare lenders.
After completing the online application, you can get approved in a matter of minutes. Some financial institutions will deposit the money into your account the same business day. All of this can be done without having to pick up the phone or physically go to a bank.
What are the disadvantages of an online personal loan?
Approval for an online loan will be based on your creditworthiness and other factors, such as employment history and income. If you don't have a strong credit history or a good credit score, you may not qualify for a loan or get the best rates. Many local community banks focus on developing close relationships with their customers. As a result, if you need a loan but can't meet traditional bank loan approval requirements, community banks may be more willing to help.
Online loans can be more expensive than loans from a credit union. So it's important to shop around and see the best rates you qualify for. Many online lenders don't have physical branches, so you won't be able to talk to someone face-to-face.
There are also predatory lenders who offer online personal loans. Payday loans are generally for $500 or less and are due on the next payday. Depending on state laws, people can get payday loans online or through a store lender. While they don't require a credit check and you can qualify for money online, a typical two-week payday loan can have annual percentage rates (APRs) as high as 400%. By comparison, credit card APRs can range from 12% to 30%. Payday loans should be viewed as a last resort.
What to look for in a personal loan
When searching for the best personal loans online, there are a variety of factors to consider.
Annual Percentage Rate (APR). This is the interest rate on the loan. Rates can range from 4.99% to 35%. Rates are based on creditworthiness and loan term.
Loan amount. Many lenders cap at $50,000, while some can go as high as $100,000. You'll need excellent credit to be able to borrow the maximum amount.
Refund conditions. Lenders will offer different payment options, ranging from two years to 20 years. The shorter the term, the lower the interest rate. However, the monthly payment amount will be higher.
Discounts. Some lenders will offer a discount for auto payment or for bundling other loans. Inquire to see what discounts you qualify for.
Rate. Lenders may have origination fees or prepayment penalties. Check rates when you're comparing lenders.
Cosigner. If your credit score is low, then you should consider applying with a co-signer with better credit. Check to see if the lender you're considering allows cosigners.
How to compare lenders online
When searching for the best personal loan online, shop around to find the best rates. You can choose to get a loan online from a traditional bank, a credit union, or an online-only bank. Online banks generally have better rates since they don't have the same overheads as regular banks.
Check your credit report and credit score. Your score will determine if you qualify for the loan, its interest rate, and the terms. An excellent credit score is one that is 800 or higher. The better your credit score, the better your interest rate. If your score is low, it may be best to work on improving your score. The difference can be thousands of dollars depending on the amount of the loan.
Determine how much you want to borrow. Personal loans range from $250 to $100,000, depending on the type of personal loan. Check your budget to see how much you can afford in monthly payments. You can use a personal loan calculator to estimate your interest rates and payments.
Find the best rates. Contact different lenders to see the rate and loan terms you qualify for. You can research various lenders online to find the best loan term for you. Many lenders have a pre-approval process that allows you to shop around for the best interest rates without affecting your credit score.
Compare other features of personal loans. Compare lenders to see if there are additional fees, such as origination fees or penalties for paying off the loan early. Some offer features like flexible payment dates, interest rate discounts, or the ability to add a co-borrower or co-signer.
Apply for a personal loan. Once you've selected a lender, you'll need to submit an online application. They will run a hard credit check which will affect your credit score. They will process your application and disburse the funds the same day or several days later.
How to apply for a personal loan online
Lenders will have different processes for getting a personal loan online, but most will require you to follow these steps:
Fill out a pre-approval form. Many lenders have an online pre-approval form where you can enter your personal information. You will need to provide employment history, income, debts, and any other information they require.
Lender checks your credit. Lenders will then check your credit score and history to determine if you meet the minimum requirements. Usually, this is a soft credit check that won't affect your credit score. If a lender doesn't have a pre-approval option, you won't know the terms of your loan until you actually apply, which will affect your credit score.
Lender gives pre-approval. If you qualify for a loan after the lender checks your credit, they will notify you of the terms and conditions you qualify for, such as the maximum amount, interest rate, and payment terms. The minimum credit score depends on the lender. A prior approval does not guarantee that you will get approval.
Formally apply for a personal loan. Once you've chosen the lender you want to work with, you'll formally apply on their website. This generally requires documentation and a credit check from the lender. If you don't qualify for a loan, the lender will notify you with an adverse letter. It will give you a reason why you were denied, the credit bureau you used, and how to get a free copy of your credit report.
Accept loan agreement. Once approved, you electronically sign your loan agreements and set up your loan for financing. Many banks will disburse the money the same day or the next business day.